GeoGebra's community has come a long way
Thanks to the ideas of free material sharing and open source software development, the dynamic mathematics software GeoGebra has become widespread across the globe during the last years. The following articles show several interesting applications how this software tool can be used in an easy yet powerful way to support mathematics learning and teaching. In this foreword, I would like to give a brief overview of GeoGebra's community and current software development plans.
GeoGebra's Community
In order to foster collaboration and support of students and teachers, the GeoGebra community is organized through local user and research groups in so called "GeoGebra Institutes", with already more than 100 GeoGebra Institutes in over 60 countries. These groups of active volunteers at colleges, universities and teacher associations organize professional development events and conferences, work on research projects and write articles like the ones in this volume.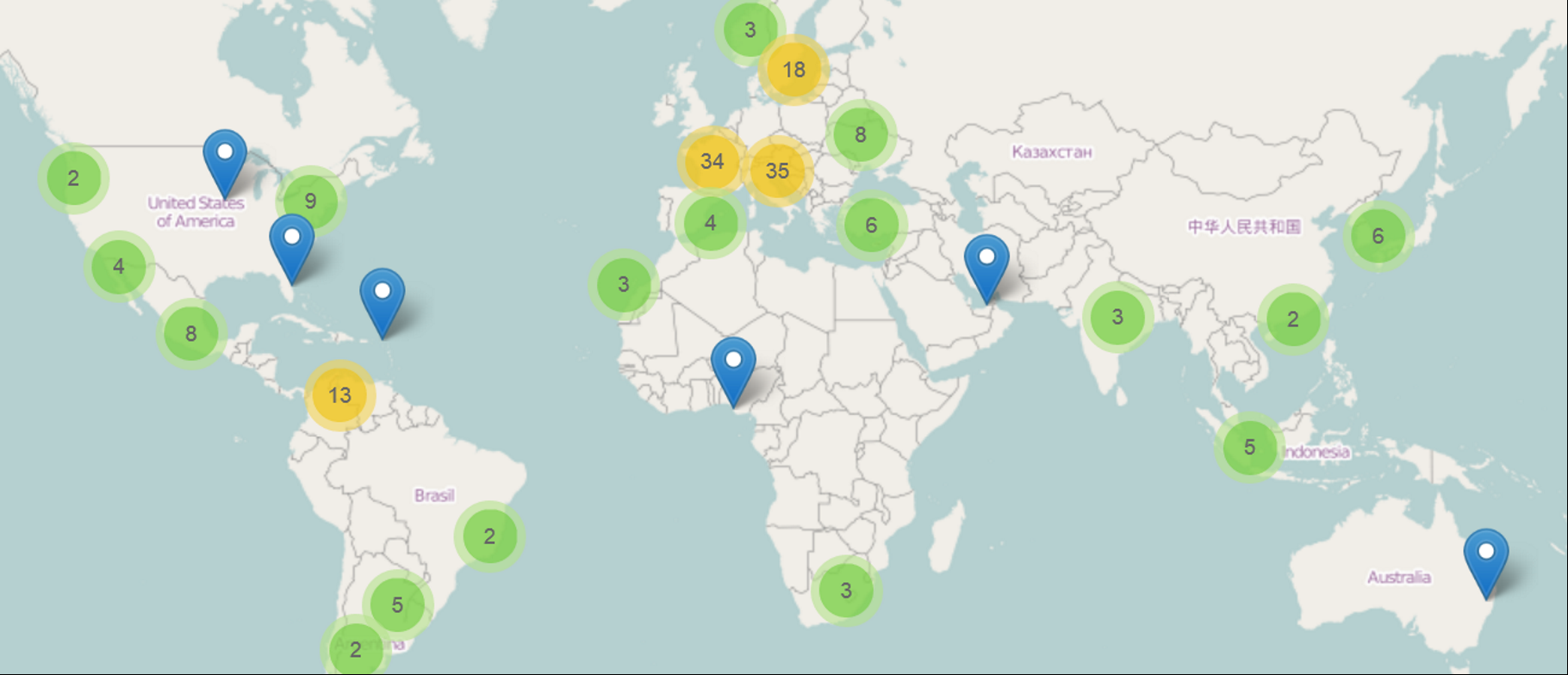 GeoGebra Institutes in over 60 countries
Since 2002 more than 70 developers have contributed over 1.2 million lines of programming code to the software that is being translated by hundreds of teachers and students to more than 60 languages. This close collaboration of developers and users has led to more than 20 million users of the software in  world-wide today.
GeoGebraTube & 3D Graphics
The material sharing platform GeoGebraTube (http://tube.geogebra.org) was started in 2011 and now hosts over 200,000 public free and interactive materials for learning and teaching mathematics and science. All of these work in any modern web browser across a range of devices without the need for any additional plugins thanks to the HTML5 technology of GeoGebraWeb since 2012.
But also the desktop version has evolved over the years. In 2012, the computer algebra system (CAS) view was added to GeoGebra in addition to the existing algebra, graphics and spreadsheet views. In 2014, the 3D graphics view was introduced allowing fully dynamic constructions and function plotting in 3-dimensions.
GeoGebra 3D – cube net and Dandelin's theorem
Touch, Tablets & Phones
Since 2012, GeoGebra is also supporting touch devices through a pen and freehand drawing tool to recognize segments, polygons and circles. That year we also released the first tablet apps for Android, iPads and Windows tablets. For 2015, we are planning to have first versions of GeoGebra for phones.
GeoGebra's developer and user community has come a long way, but the most important goal of all these projects and developments remains the same: to provide an easy-to-use software for mathematics education that is freely available for students and teachers across a range of devices. The GeoGebra team is always looking for feedback and new ideas for improvements, and the best way to do that is by visiting our user forum at: www.geogebra.org/forum
I wish you a lot of fun and success when using GeoGebra in your own teaching. The following articles will give you some nice ideas how to do so.
Markus Hohenwarter, Founder of GeoGebra